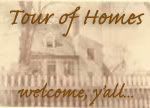 BooMama
is hosting a tour of blogger homes. Basically she has said that she can't read a blog without imagining what the persons house looks like. So after some friends suggestions she decide to host a tour of homes.
I think it sounds like fun and will give you a glimse of the 100 Acre Wood if you haven't been here. And it also gives me a little
motivation
to pick up the house! It is like having company. The tour is on Friday and yes I intend to tie in Frugal Fridays with the tour.
Interested? Check it out
here
and join in the fun.