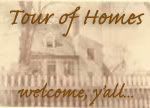 Today is
BooMama's
Tour of Homes. Thanks so much to her for hosting this. And if you have never been here before please feel free to look around. I normally talk about something frugal on Fridays, but today I will be showing it to you.
A little background; we live on 100 wooded acres with my parents. We moved here about a year ago. We live in a double wide now with hopes to build our
"realistic dream home."
We (well mostly my dad) have done most everything around here ourselves. It has been a slow process, but has saved us a ton of money. For example we bought this home used and with all we have in it (moving it, foundation ect) we have spent about $15,000. Not bad for a three bedroom, 2 bath home. It even has a fireplace. It is the first time we have had one and we love it. Of course we also have all the free firewood we could ever use! Ok now on to the tour.
I know BooMama asked for a picture of the front door first, but this is really the beginning of our home. This is our driveway. It actually isn't our property here, only a right away to our property that is about 3/4 of a mile from here.
This is the front door. Yes, we do have a sidewalk and porch now, no still no grass. I think the plan now is to wait until fall to plant grass so we don't have to water so much!
Here is me in the office working on this blog. Actually, this is supposed to be the dining room, but we use it as an office. It is pretty small. We could probably get our family into it, but wouldn't be able to open up our table when we have guests, so we opted to put the table in the family room.
The family room is a large room. Nolan is in the living area of the room. Sorry the pictures of this room are dark. We tried to get as much light as possible, but without much success. I doesn't really show the room well either, but I couldn't resist the picture of Nolan. The fireplace is pretty much behind where Nolan is in the far corner. There is a sliding glass door on the back wall with a nice view into the woods. Eventually there will be a deck there too.
And yes, I did pick up this morning, but with four kids, ok never mind the four kids, just with Nolan "picked up" lasts for about ten seconds! I wasn't quick enough! So as BooMama said this is the "real deal"
Here is a shot from the other side of the room, showing our dining area.
I really enjoy my kitchen. There really isn't enough counter or cupboard space, (now is there ever enough ladies?) but it is spacious. I love the two windows by the sink. The view isn't too pretty there right now, but I can see the kids and watch the birds. This spring I could watch a
momma bird
and her babies from these windows. We also have a small table and my great grandmothers dry sink on the other side of this room.
Well for the last picture I couldn't decide what to use. My bedroom... not a chance that is always the last room to get cleaned and the doors are usually shut when people are over. There really isn't anything else I'd like to show in the house. I have lots of favorite spots outside, but it is difficult to go on a hike alone with Vivian and Nolan, so I didn't get to those spots today. I decided to show you where I have spent the most time outside recently.
At the blackberry bushes. I guess it is a favorite spot because I love getting all the free berries. Yes, I get sweaty and scratched up, but there is a certain satisfaction in doing the work and getting the reward. We try to go first thing in the morning when it is cooler. The kids go with me. Vivian sleeps in the stroller, Nolan steals berries from everyone's basket and Kellen and Lydia find their own spots to pick. It is generally a quiet time for me. I can do a lot of thinking while picking berries. That doesn't happen many other places.
So this is our frugal living space on the 100 Acre Wood. Next Friday I plan to share some of the other frugal shelters Tim and I have had over the years. Thanks for stopping by, come again soon!